Dogs are People Too
November 29, 2018
We want to discuss that old chestnut that divides so many opinions. Why are landlords so anti pets when it comes to renting property in Ireland? Now we have to declare our self interest in that everyone at Bowe Property are animal mad and our mascot regularly attends our offices sitting peacefully and attentively in his crate checking out everyone coming and going from our busy offices. There is no doubt we are a nation of animal lovers and research is showing, that over 80% of Irish people either have a pet or plan on having a pet.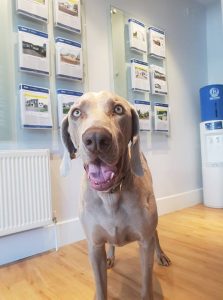 Traditional pets range from dogs, cats and even goldfish, however there has been a marked increase amongst our reptile friends ranging from pythons and iguanas.
At Bowe Property, we manage over 400 rental properties between both our offices in Bandon and Ballincollig and work with a wide range of landlords and tenants from all parts of the world and not a week passes by where a request is made from either an existing or a prospective tenant around housing a pet in their rental home. Very often this is met with a default answer being NO! from most landlords, despite in many instances offers of extra security deposits together with a detailed history and the invitation to an introductory meeting to the animal in question. Very often the same landlords who decline the request bizarrely have loved and cherished pets themselves at home.
We have recently seen in Ireland the relaxation of pets, primarily dogs into licenced and restaurant premises and feel that there needs to be a more balanced view on tenants keeping pets at their rental property.
What we're calling for is a balanced and open discussion that where appropriate to the accommodation, gardens and environment, that responsible tenants and pet owners should be permitted to keep pets and live a normal life. It is our view that a good pet is far better than a bad tenant and most responsible pet owners are great tenants. What do you think? Do you think you must own a property in order to have a pet? Do you think we need a more balanced approach?
Your adorable property hound.
Ralph
(Dogs (and cats!) are people too!)